click image to enlarge
I Never Played Catch With My Father

or use

All books shipped with tracking number. See

Return & Exchange Policy




I Never Played Catch With My Father

.


When fame and fortune are not enough.




(on

$39+

)

+

Free eBook

+

Save $6

+

Autographed




+Autographed



Audio Excerpt | Read Excerpt Here




'Play' Poster Only $9.95


I Never Played Catch With My Father

-

Hardcover
by Gene Cartwright.

The book that earned an Oprah appearance. Hardcover, 384p. - I Never Played Catch with My Father is an emotional, intimate story about life that passes all too quickly; about family, baseball, and moments gone forever. James Phalen learns that fame and fortune are not enough.



4.9 of 5

stars -

316

reviews

Regular price:

$24.95 $18.95




Condition: Brand New, shrink-wrapped- Autographed on request




In Stock




Product details




384

pages

Publisher:

Falcon Creek Publishing Co.

-
July 6, 1995

Language:

English



ISBN-10:

0964975602

-
ISBN-13:

978-0964975606





Turn Book Pages


I Never Played Catch With My Father




This 20 Year Limited Edition Softcover





I Never Played Catch With My Father

-

Softcover

by Gene Cartwright.

The book that earned an Oprah appearance. Hardcover, 384p. - I Never Played Catch with My Father is an emotional, intimate story about life that passes all too quickly; about family, baseball, and moments gone forever. James Phalen learns that fame and fortune are not enough.

Regular price:

$18.95 $14.95




Condition: Brand New- Autographed upon request


In Stock


Product details

384

pages

Publisher:

Falcon Creek Publishing Co.

-

June, 2015

Language:

English

ISBN-10:

1511457546

-

ISBN-13:

978-1511457545
Catch Softcover Original

Original Softcover



I Never Played Catch With My Father

-

Softcover

by Gene Cartwright.

he book that earned an Oprah appearance. Hardcover, 384p. - I Never Played Catch with My Father is an emotional, intimate story about life that passes all too quickly; about family, baseball, and moments gone forever. James Phalen learns that fame and fortune are not enough.

Regular price:

$18.95 $14.95




Condition: Brand New- Autographed upon request




In Stock




Product details




384

pages
Publisher:

Falcon Creek Publishing Co.

-
June, 2015



Language:

English



ISBN-10:

096497567X

-
ISBN-13:

978-0964975675


IMPORTANT SHOPPING CART CHECKOUT INFO.
3 Options for Payment at Checkout:

1. Click the CREDIT CARD TAB for credit cards or the
2. DEBIT TAB for debit cards,
3. Or Use Paypal.

Thanks

For Fathers & Mothers, Daughters & Sons: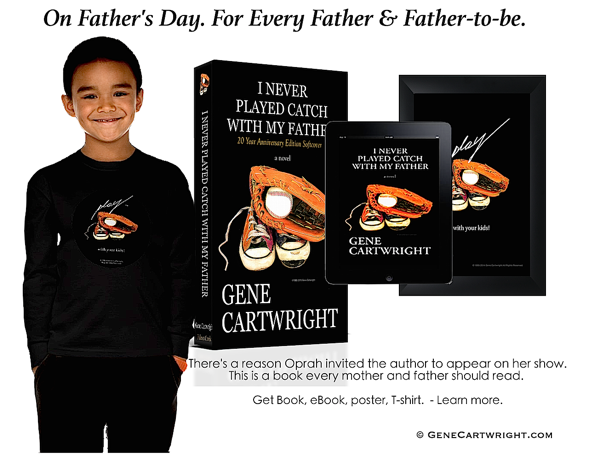 Dallas, Texas - KLIF Radio Interview - 1997 During National Book Tour.



Browse other titles: